One of the beautiful things about tiny house living is that you aren't necessarily tied to one spot of land. For example, suppose you build your Tiny House on a trailer. You have the flexibility to go anywhere you'd like across the country while keeping the familiarity, comfort, and convenience of your tiny home.
If you are considering a tiny house while you explore the country or want the flexibility to be a snowbird, having your tiny house on a trailer lets you choose a different backyard depending on the seasons. That way, you can enjoy your morning coffee wherever you like!
Several facilities enable you to park your tiny house on a trailer, and our house favorite is along the Piney River in Tennessee. Its peaceful setting is about 90 min outside Nashville. Letting you fall asleep to crickets under the stars in the summer while still being close enough to the city to enjoy the amenities, restaurants, and shows that Nashville is known for.
If you are thinking about exploring a tiny house that is not site built but crafted to sit atop a trailer, here are some essential things to consider.
What type of trailer will you need?
Standard Trailers: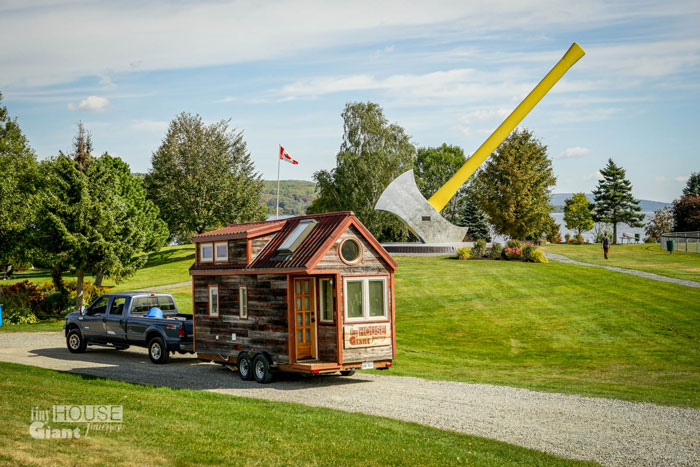 The average trailer for a tiny house is 20 to 24 feet long and 90 inches wide. The majority of tiny houses built on a trailer use a simple, flatbed trailer. You can find them at almost any trailer or RV store. Commonly called utility trailers, lowboy trailers, or flatbed towing trailers, they are easy to acquire and give you the size and surface you'll need to build your tiny house.
Custom Trailers: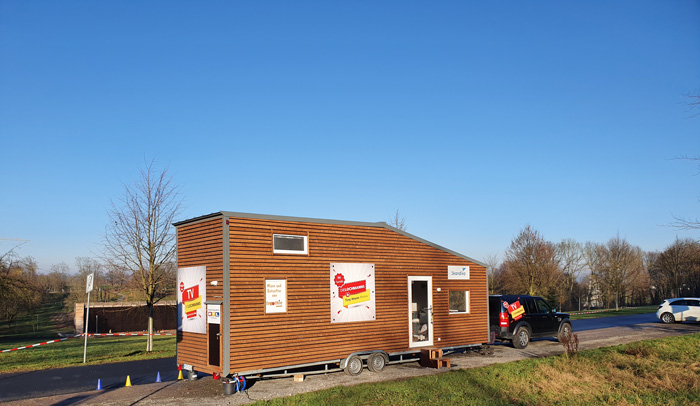 Custom Trailers are built to your specifications to accommodate your tiny house. However, there are a few things to keep in mind if you choose to commission a customer trailer for your tiny house.
What do I need to know to be street legal?
Street-Legal Tiny House On A Trailer
The whole purpose of putting a tiny house on a trailer is to have a street-legal way to move your tiny home. Therefore, you'll need to take into consideration the regulations of the National Highway Traffic Safety Administration, as well as any state requirements as they pertain to trailers.
For example, your trailer cannot be more than 8'6″ wide. In most states, the maximum length is 40 feet and only 13fit high. Please note that various states will have their own regulations that pertain to tiny homes for transport and parking, so be sure to check before you travel to ensure your tiny home is compliant.
Weight is another consideration for your tiny home. The good news is that unless you have A LOT of heavy possessions in your tiny home, it's unlikely that your load will be more than the 20,000lb limit that triggers a need for special permits.
That being said, there are a few different weight measurements you'll need to know when looking at towing your tiny house.
GVWR
GVWR is the maximum total safe weight of your vehicle without a trailer attached. This is the curb weight, which is the vehicle's weight, including a full tank of fuel and all standard equipment, and the weight of any passengers and cargo.
The Trailer's Actual Weight
This is important because the weight of the trailer plus the weight of the house is what your vehicle will need to tow. For example, if your trailer weighs 1500 lbs and your tiny house with your possessions inside is 15,000 lbs, you will likely need a heavy-duty truck to pull your tiny home on a trailer.
Tongue Weight
This is a weight that is super important but often overlooked. Tongue weight is the static force the trailer tongue exerts on the hitch ball. The proper tongue weight for conventional trailers with ball-mounted hitches is roughly 10 to 15 percent of the total loaded trailer weight. If you don't have enough weight on the trailer tongue, the trailer may be prone to swaying from side to side, making it difficult to control. Conversely, if you have too much weight exerted on the hitch ball, the force could overload the rear tires of the tow vehicle and push the rear end of the vehicle around.
What Vehicle Can Pull A Tiny House On A Trailer?
The most important thing to consider when deciding which vehicle to use when towing your tiny house is its payload capacity.
Remember, two trucks that are the same size might have vastly different powertrain specifications, dramatically impacting their towing capacity.
A vehicle's power train consists of the axle and wheels, the driveshafts, the engine, and the transmission. These components create power and propel the vehicle (and whatever it is towing).
Additional specifications to consider for your vehicle are extra wide side mirrors so that you can see around your tiny house, as well as ensuring that your hitch is the appropriate size and weight to accommodate towing your tiny home.
Don't forget, in order to be street legal; you'll want to make sure that whichever trailer you choose has a spot for the license plate and wiring for brake lights/turn signals for safety.
Where Can I Park A Tiny House On A Trailer?
Finally, once your tiny house on a trailer is complete, you'll need a place to park!
This is an area where it is crucial to check with the local municipality regarding rules and restrictions to where you can and cannot park your tiny home.
If your travels find you in Tennessee, Piney River Resort offers monthly pricing discounted from the normal nightly rates. However, if you aren't quite ready to commit for a full month or live the over-the-road life in your tiny house, there are short-term options. These give you all the beauty of the great outdoors with the convenience of being a close drive to major hospitals, industry, and entertainment in Nashville.
If you're ready to enjoy life with residential options, a tiny house on a trailer could be an excellent fit for you!