When it comes to escaping the hustle and bustle of everyday life and reconnecting with nature, there's nothing quite like glamping. It's the perfect blend of luxury and adventure, offering the comforts of home while immersing yourself in the great outdoors. And if you're looking for an unforgettable glamping experience that won't break the bank, Tennessee has some hidden gems just waiting to be discovered. In this guide, we'll introduce you to the top 8 glamping destinations in Tennessee where luxury seamlessly blends with value, ensuring a memorable getaway that respects your budget.
Piney River Resort (Bon Aqua, TN)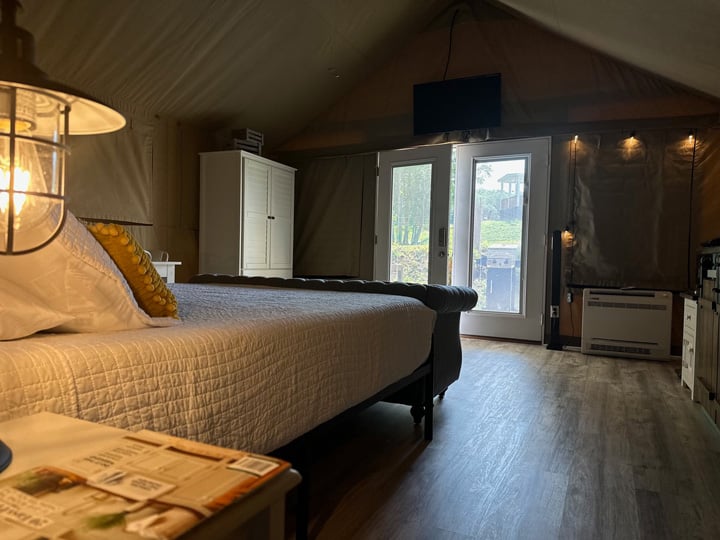 Piney River Resort in Bon Aqua, Tennessee, is a glamping paradise with the perfect combination of luxury and affordability. Nestled in the picturesque countryside, Piney River Resort features spacious glamping tents equipped with heating and air conditioning (yes, even in the wild), cozy queen beds, private bathrooms with soaking tubs and showers, and well-equipped kitchenettes. Step onto your private deck overlooking serene ponds, where you can enjoy meals at the outdoor dining table and savor the flavors prepared on the gas grill.
But what truly sets Piney River Resort apart is its affordability. You get all these lavish amenities without the extravagant price tag, making it the perfect choice for those who want to experience the best of glamping without breaking the bank.
Five Meadows Farm (Dekalb, TN)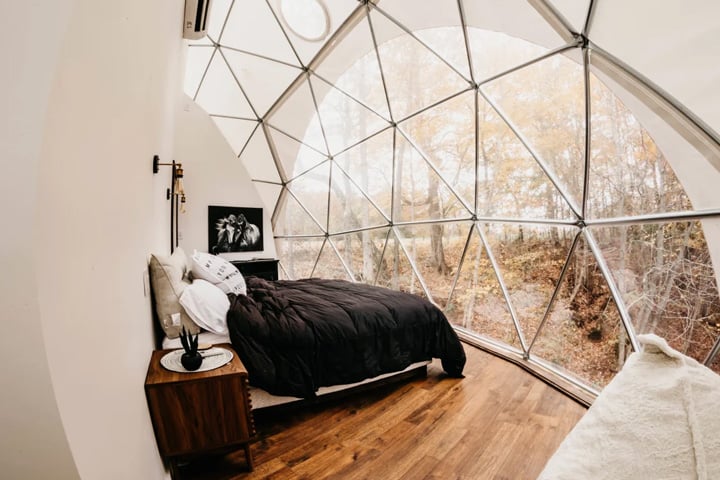 Five Meadows Farm in Dekalb, Tennessee, is a hidden gem that promises an enchanting glamping experience. Nestled in the heart of nature, this serene escape is perfect for those seeking tranquility. You'll find various accommodation options, including safari-style tents that provide a comfortable and immersive stay. Wake up to the soothing sounds of nature and breathe in the fresh country air. With clear night skies perfect for stargazing and beautiful meadows to explore, Five Meadows Farm offers a picturesque retreat for those looking to disconnect and rejuvenate.
Little Arrow Outdoor Resort (Townsend, TN)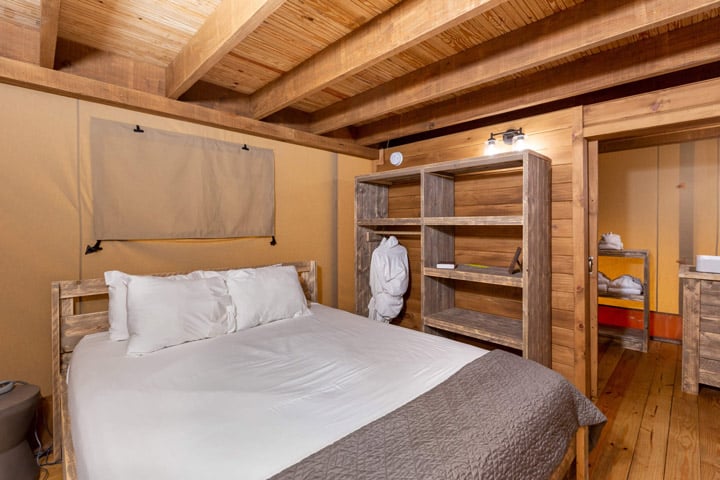 Little Arrow Outdoor Resort in Townsend, Tennessee, offers a blend of outdoor adventure and creature comforts. Situated on the doorstep of the Great Smoky Mountains National Park, it's a haven for nature enthusiasts. Stunning mountain views surround you, and have access to modern amenities like an on-site restaurant and heated pool. It's the perfect base for exploring the natural wonders of the Smokies.
Tennessee Glamping (Altamont, TN)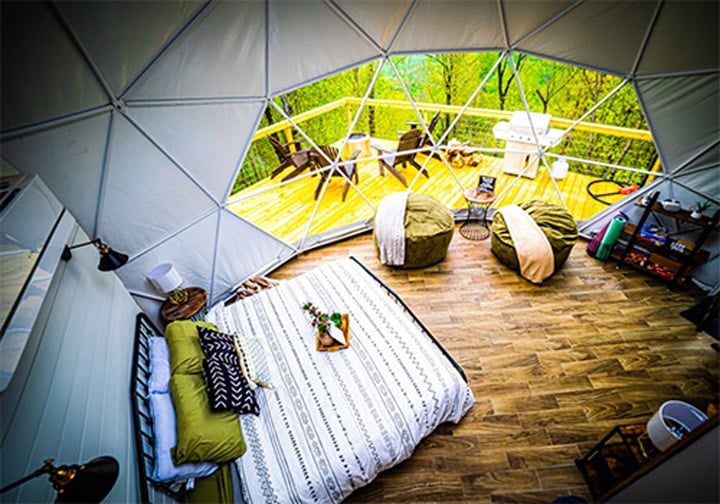 Tennessee Glamping, located in Altamont, Tennessee, is your gateway to a rustic yet comfortable glamping experience. Choose from charming canvas tents nestled in the scenic woods. These well-appointed tents provide a cozy retreat while immersing you in the beauty of nature. Explore the surrounding trails, unwind by the campfire, and enjoy the simplicity of life outdoors. It's an ideal spot for those looking to unwind and disconnect from the daily grind.
Under Canvas (Gatlinburg, TN)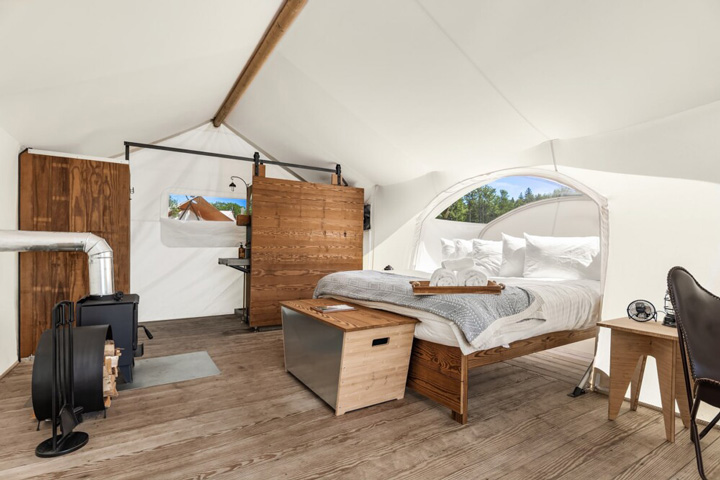 Under Canvas in Gatlinburg, Tennessee, offers a luxurious glamping experience at the gateway to the Great Smoky Mountains. Their safari-inspired canvas tents blend comfort and style, featuring plush bedding, wood-burning stoves, and private decks with breathtaking mountain views. It's the epitome of glamping with a touch of elegance. Wake up to the beauty of the Smokies, embark on guided adventures, and savor gourmet meals prepared by on-site chefs. Under Canvas redefines glamping with unparalleled luxury in a pristine natural setting.
Ridge Outdoor Resort (Sevierville, TN)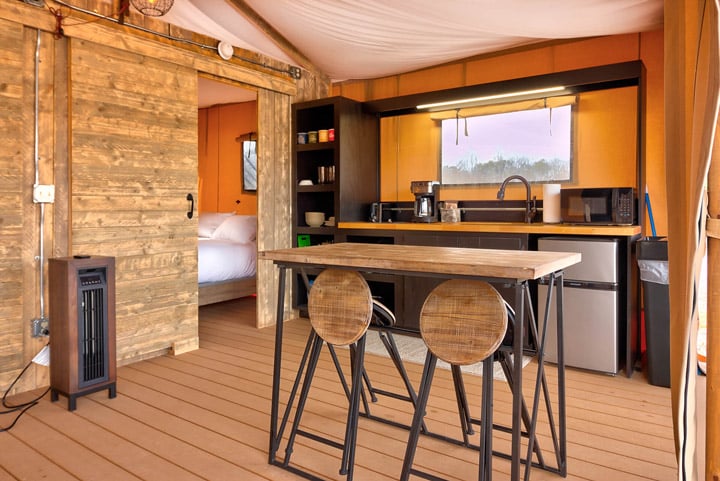 Ridge Outdoor Resort is an adventure lover's dream. While they offer luxurious glamping options like safari tents with private bathrooms and cozy furnishings, they also have budget-friendly options for those looking to enjoy the resort's fantastic amenities without splurging.
Canopy Ridge (Pigeon Forge, TN)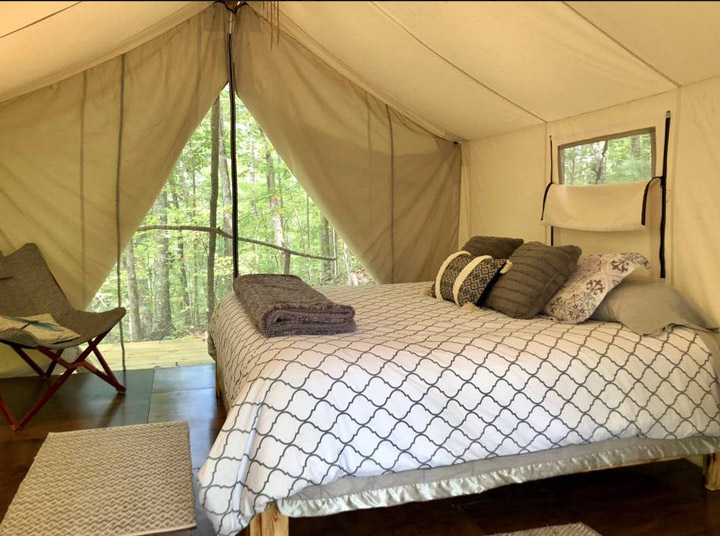 Canopy Ridge in Pigeon Forge, Tennessee, is a haven for adventure seekers looking to experience glamping with a thrilling twist. Their treehouse glamping offers a unique stay perched on the treetops. These cozy treehouses provide a blend of rustic charm and modern comfort. Imagine waking up in the canopy, surrounded by lush forests. Canopy Ridge also offers exhilarating zipline adventures, making it the perfect destination for those seeking a bit of adrenaline along with their glamping experience.
Treetop Hideaways, (Chattanooga, TN)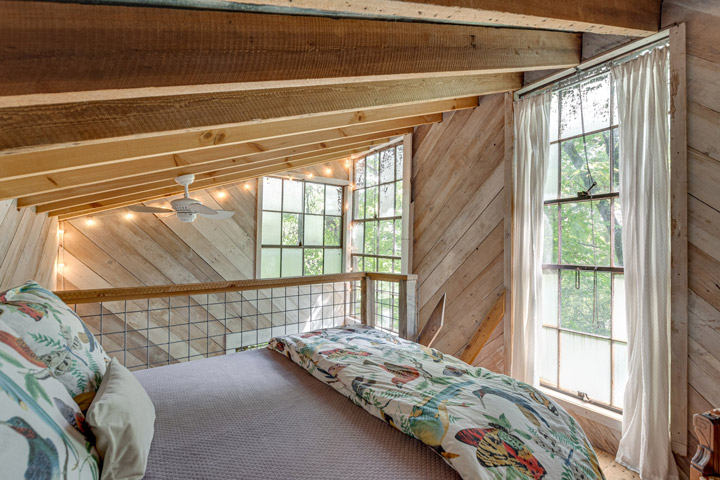 Treetop Hideaways in Chattanooga, Tennessee, is where the magic of treehouse glamping comes to life. These enchanting treehouses offer a one-of-a-kind escape high in the trees. Each treehouse is beautifully designed and equipped with everything you need for a comfortable stay. Imagine falling asleep to the sounds of the forest and waking up to birdsong. Treetop Hideaways provides a serene retreat ideal for couples and adventurers seeking a peaceful and unique getaway in the treetops of Tennessee.
Book Your Affordable Glamping Getaway Today!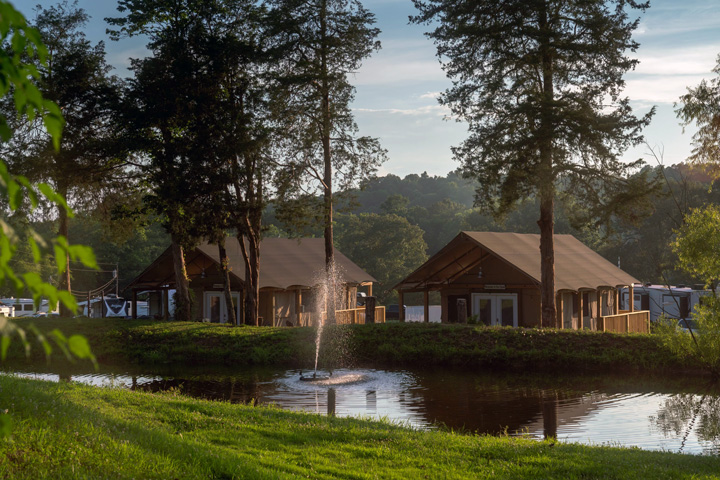 Tennessee's glamping scene has something for everyone! Don't miss the chance to experience the perfect blend of luxury and value on your next getaway. Secure your spot at one of these top 8 glamping destinations and create unforgettable memories without breaking the bank.
Ready to embark on your budget-friendly glamping adventure? Book your stay at Piney River Resort or one of these fantastic Tennessee glamping sites today and discover why luxury meets value in the heart of the Volunteer State!