Welcome to Piney River Resort, where camping gets a luxurious and glamorous twist! If you're wondering what the fuss is about "Glamping" and why you might want to choose it over a traditional camping experience, you've come to the right place. Get ready to discover why Glamping at Piney River Resort, nestled next to the Piney River in Bon Aqua, Tennessee, is the way to go when you want an Outdoor experience that's relaxing, fun, and filled with all the comforts you need.
Glamping Unveiled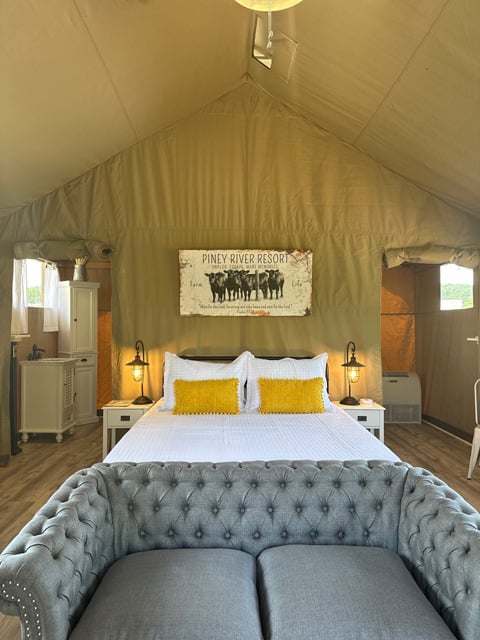 First, let's uncover the secret behind "Glamping." The word is a combination of "Glamorous" and "Camping." Picture all the outdoor wonders of camping but with a big dose of luxury and style. That's what Glamping is all about, and Piney River Resort is your ticket to this exceptional experience.
Your Cozy Retreat in Nature
So, what exactly does Glamping look like at Piney River Resort? Imagine sleeping in a cozy queen bed nestled inside a large canvas tent. Yes, you read that right – a tent! But not just any tent, mind you. It's nice, complete with heating and air conditioning (shh, it's our little secret). When you step outside, you're greeted by the serene beauty of Piney River Resort. Your private deck overlooks a peaceful pond where you can enjoy your meals at an outdoor dining table and fire up your private gas grill for mouth-watering meals. And when the night falls, gather around the huge Solo Stove fire pit (The Yukon) with Adirondack chairs, sharing warmth and stories with your glamping friends and family. We even provide firewood, kindling, fire starters, and matches for your convenience.
And let's not forget each Glamping tent has a private bathroom with a sink, toilet, Old Fashioned Bathtub, shower sprayer, and linens. No more midnight dashes to a shared restroom!
A Kitchenette for Foodies
Now, let's talk about food. We know that camping and cooking go hand in hand, and that's no different with Glamping. Inside your tent, you'll find a well-equipped kitchenette. What's in it, you ask? A retro refrigerator, induction cooktop, all-in-one microwave/air fryer/convection oven, old-fashioned sink, dishes, flatware, cookware, drinking glasses, wine glasses, coffee cups, and even a Keurig. So, no matter what you need, we've got you covered.
We also provide Meyers dish and hand soap, bath towels, and your first round of firewood for the Solo Stove. We like to call that "Glamping Prep 101."
A Touch of Charm and Cuteness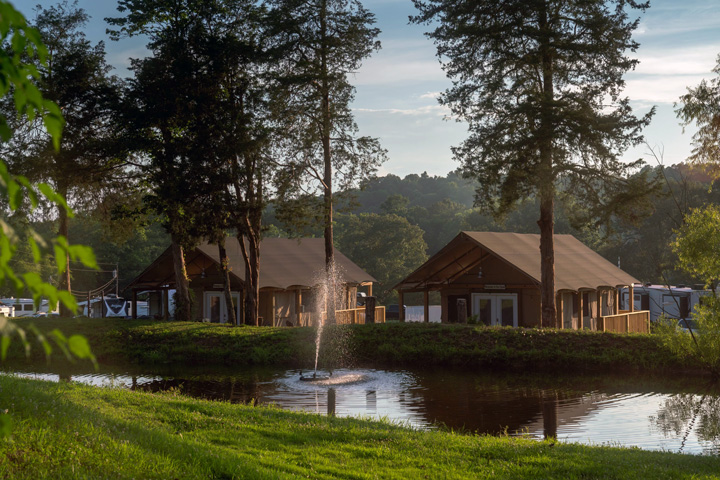 The best part: Glamping at Piney River Resort isn't just about the fancy amenities. It's about the charm and cuteness that come with it. Our Glamping tents offer the perfect blend of outdoor adventure and cozy relaxation. It's camping but with a touch of luxury that makes it oh-so-special.
Why Choose Glamping Over Tiny Homes or Tents?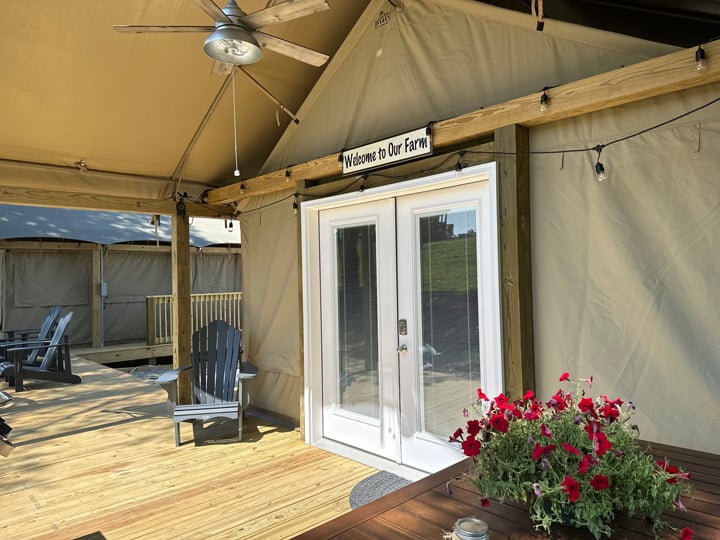 You might be wondering why you should choose Glamping over staying in one of our lovely Tiny Homes or pitching a tent. Well, that's a fair question!
Best of Both Worlds: Glamping combines the thrill of camping with the comfort of a cozy bed, private bathroom, and well-equipped kitchenette. It's like staying in a cozy cabin while being surrounded by nature.
No Setup Required: Unlike traditional camping, where you have to set up and take down your tent, with Glamping, your accommodation is ready and waiting for you. No tent-pole wrestling is required.
Ultimate Relaxation: Glamping at Piney River Resort is about relaxation. Whether you're lounging on your deck, roasting marshmallows by the fire, or taking a soak in your private tub, you're sure to unwind and enjoy every moment.
Great for All Seasons: With heating and air conditioning, Glamping is suitable for year-round adventures. You're covered, whether it's a cozy winter retreat or a summer escape.
Book Your Glamping Adventure Today!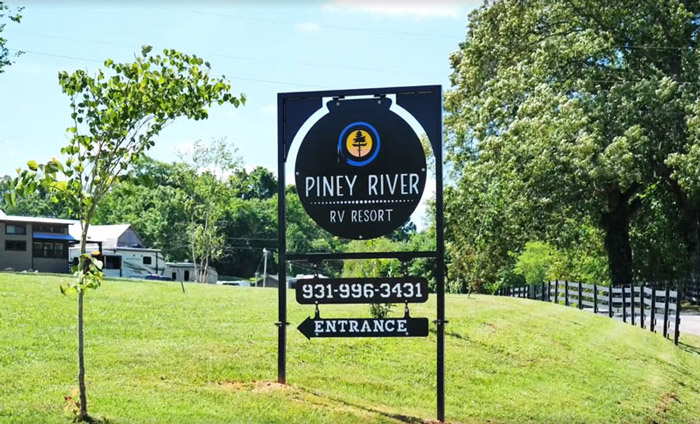 Ready to elevate your camping experience? Piney River Resort is your gateway to the world of Glamping, where you can enjoy the great outdoors without sacrificing comfort. Secure your spot in this haven of relaxation and create unforgettable memories with us. Don't miss out on the chance to turn your next camping trip into a luxurious adventure. Book your Glamping experience at Piney River Resort in beautiful Bon Aqua, Tennessee, today!
It's time to embrace the charm, comfort, and relaxation of Glamping. See you by the fire!