Are Y'all ready to set your soul on fire with the magic of nature, but still hold onto those home comforts? It's high time you experienced a Glamping Tent at Piney River Resort!  We're here to guide you through planning a trip that's more fun than a sack full of kittens, a hefty helping of Southern Hospitality, and charm to boot. So, kick your boots off, let your hair down, and let's get to planning!
Step 1: Pick the Perfect Tent:  Farm Life Glamping
At the heart of your glamping trip, you'll find our charming, but Luxurious Glamping Tents. Each one is nestled right along the peaceful pond, giving you a front-row seat to some of the prettiest sunrises and sunsets in Tennessee. Inside, you will find them super cozy, with plush bedding, bathroom amenities, soaking tub, kitchenette, electricity, air conditioning, and even a refrigerator. You'll be living it up, outdoors with an outdoor dining table, gas grill, and fire pit with adirondack chairs, and string lights.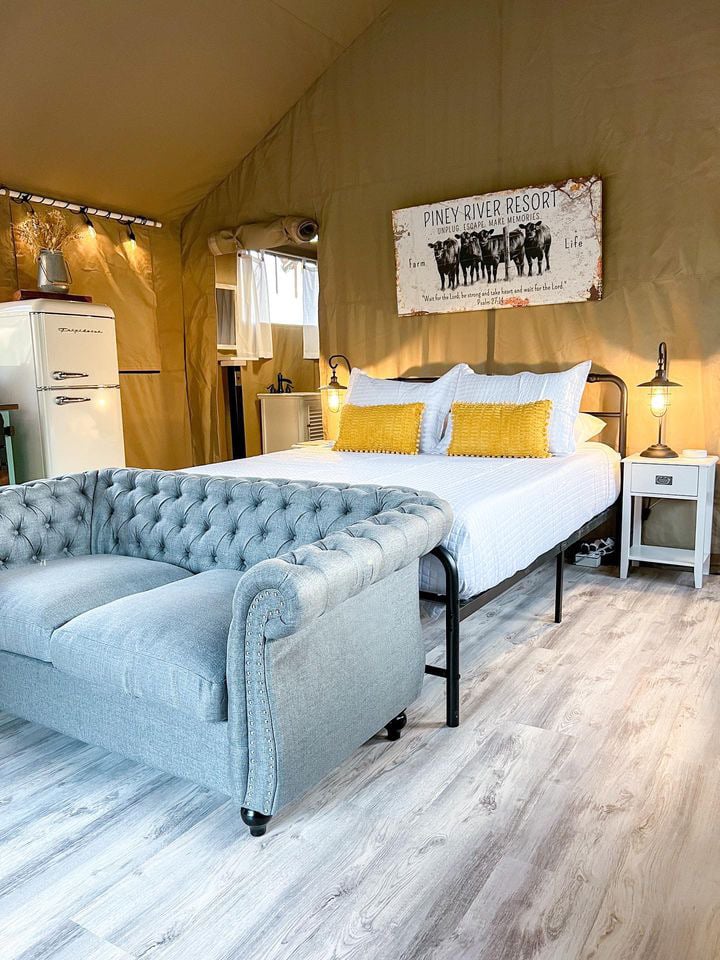 Step 2: Pack Your Bags Just Right
Remember, we're glamping here, not camping! So you can leave that roughing-it gear at home.   You'll want comfy clothes for lounging, swim gear for splashing around in the river, and don't forget your best hiking shoes if you're keen to explore the great outdoors.
Step 3: Plan Some Local Adventures
We're mighty proud of our little corner of Tennessee, and y'all will love it too. From exploring Music City, USA (that's Nashville, y'all) just 45 miles away, to visiting the historic Johnny Cash's Farm or sippin' fine wines at Grinder's Switch Winery, we've got enough fun and adventure to fill your boots. And if you're partial to outdoor fun, try some off-roading with Fisher's Off-Road Family or rent a canoe and float down the tranquil Piney River. Click here to see more things to do in the area.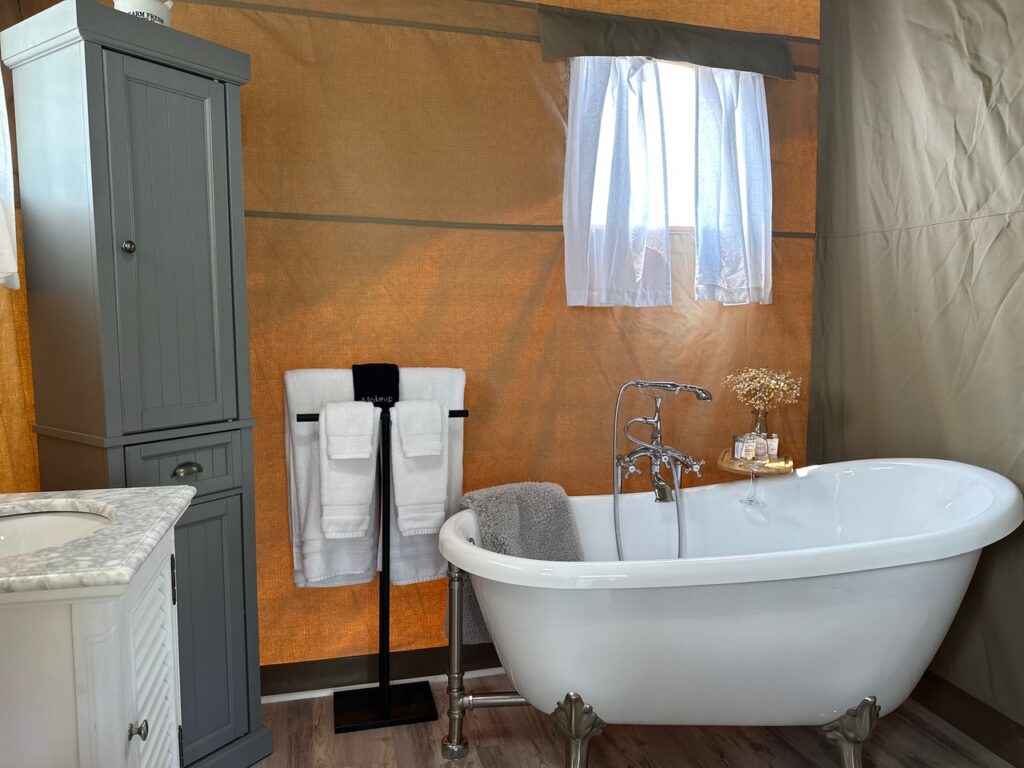 Step 4: Let Loose and Relax
Most important of all,  remember to slow down and soak up the charm of Southern living. Bask in the glow of your solo stove fire pit, take long, leisurely walks by the river, or just snuggle up in your luxury glamping tent with a good book. This is your time to unwind and reconnect with what matters most.
Step 5: Come as Guests, Leave as Family
Here at Piney River Resort, we reckon the perfect glamping trip is one where y'all come as guests and leave as family. We're not just offering you a place to lay your head; we're inviting you into our little world, where Southern charm, stunning nature, and the comfort of home, blend seamlessly.  We can't wait to welcome you with our amazing and friendly Staff.
So, there you have it – your guide to planning the perfect glamping trip to Piney River Resort. We're itching to see y'all soon!