Glamping, the luxurious blend of glamour and camping, promises a magical and comfortable connection with nature. Whether you're a seasoned glamper or new to this experience, our comprehensive guide will equip you with essential tips and tricks to maximize your glamping adventure at Piney River Resort. We've got you covered for the ultimate glamping experience.
1. Enjoy Your Stylish Luxury Glamping Tent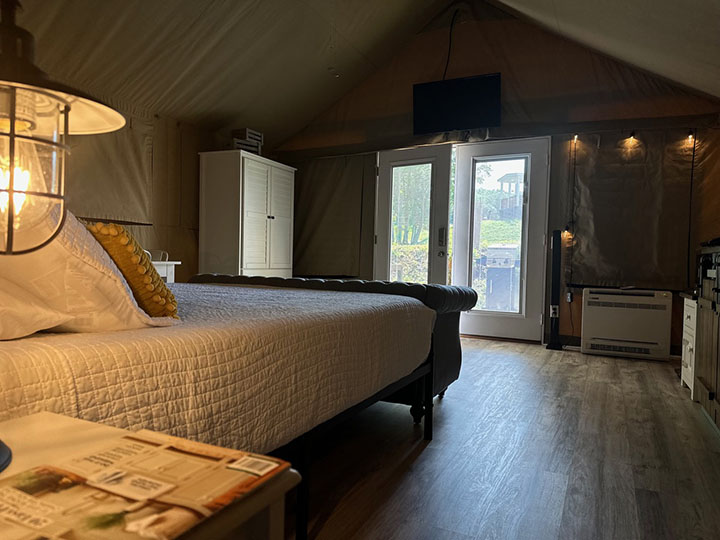 Upon arrival, our team will have your site ready for a delightful glamping adventure. Enjoy your private deck, outdoor furniture, plush cushions, and cozy blankets to create a welcoming ambiance for your stay. After a day of exploration, return to a beautifully arranged glamping camp that awaits your relaxation.
2. Embrace the Night Sky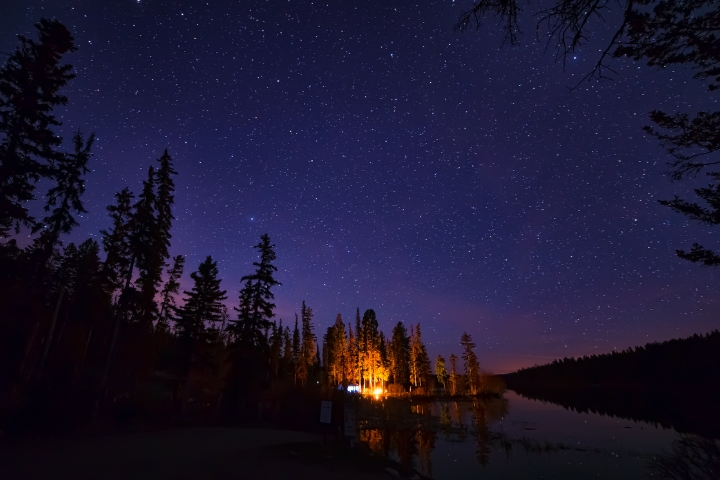 Glamping provides an excellent opportunity to stargaze in a tranquil setting. Bring along a telescope or a stargazing app on your phone to identify constellations and planets. The magic of the night sky will add an unforgettable touch to your glamping experience.
3. Enjoy a Cozy Sleeping Area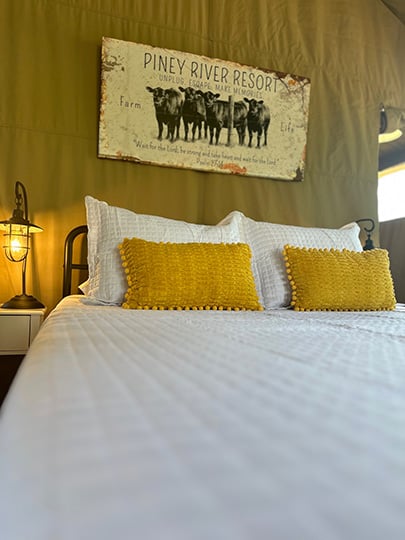 We've thoughtfully designed your sleeping area to ensure a restful night's sleep. Our glamping accommodations feature high-quality beds, soft linens, and extra blankets for added comfort. You'll wake up rejuvenated and ready for another day of adventure.
4. Be Prepared for Any Weather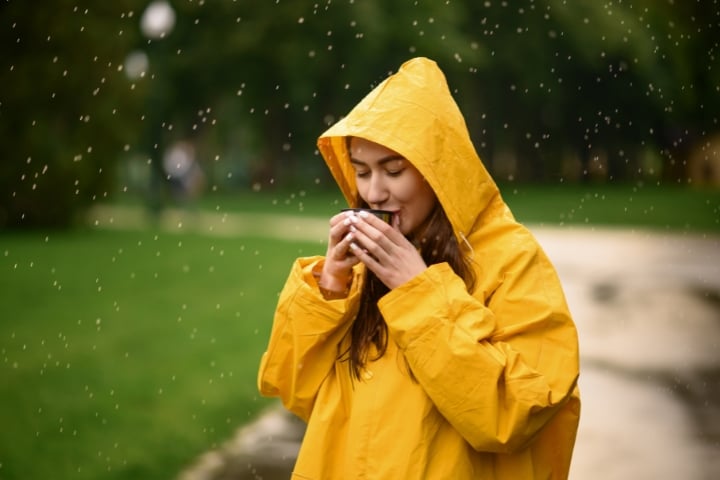 While glamping offers a luxurious experience, the weather can be unpredictable. We recommend checking the weather forecast for your glamping dates and packing accordingly. We suggest bringing layers, raincoats, and any other weather-appropriate gear to stay comfortable in all conditions.
5. Dining in the Great Outdoors
At Piney River Resort, we take glamping dining to a new level. Our glamping accommodations come with your own kitchenette, perfect for cooking meals. Pack your favorite ingredients and unleash your inner chef as you prepare delectable meals surrounded by nature's beauty.
6. Pack Wisely for Your Glamping Wardrobe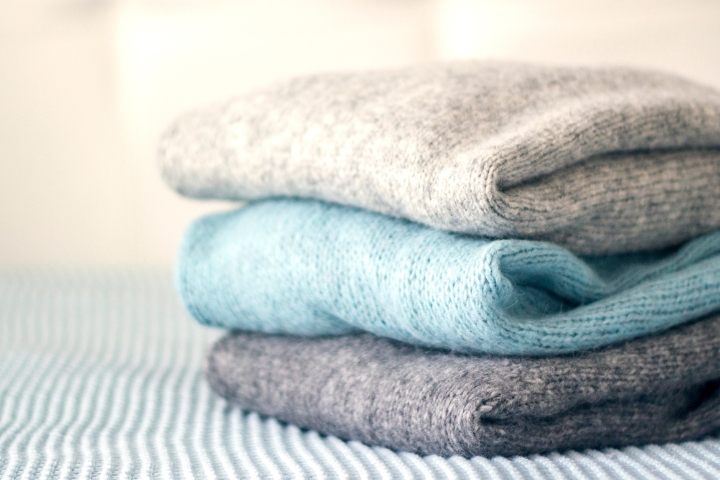 Our glamping site provides a blend of outdoor adventures and relaxation, so pack accordingly. We suggest comfortable clothing suitable for exploring the Piney River area, as well as cozy attire for evenings by the campfire. Don't forget to bring proper footwear for various activities. All of our luxury glamping tents include AC and Heat.
7. Enjoy some "Me Time"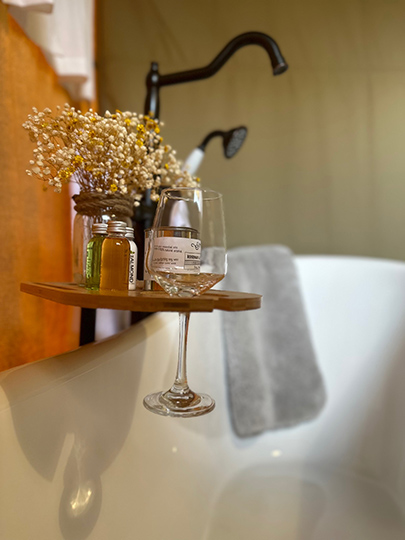 For your convenience, our glamping accommodations come with essential toiletries and bath towels. Enjoy a refreshing bath in your clawfoot soaking tub, wine glass, and scented candle, ensuring you stay relaxed for every adventure.
8. Entertainment and Relaxation Amid Nature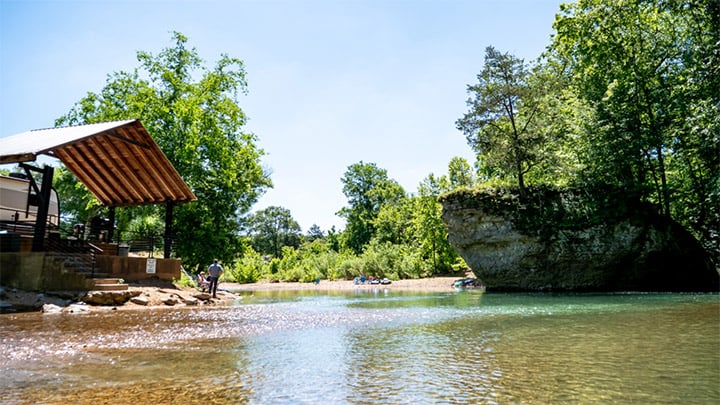 Immerse yourself in nature's embrace and leave the stresses of everyday life behind. Our glamping tents come with a TV and Wifi if you need some downtime, but we encourage you to find joy in the simple pleasures of nature.
9. Respect the Scenery and Environment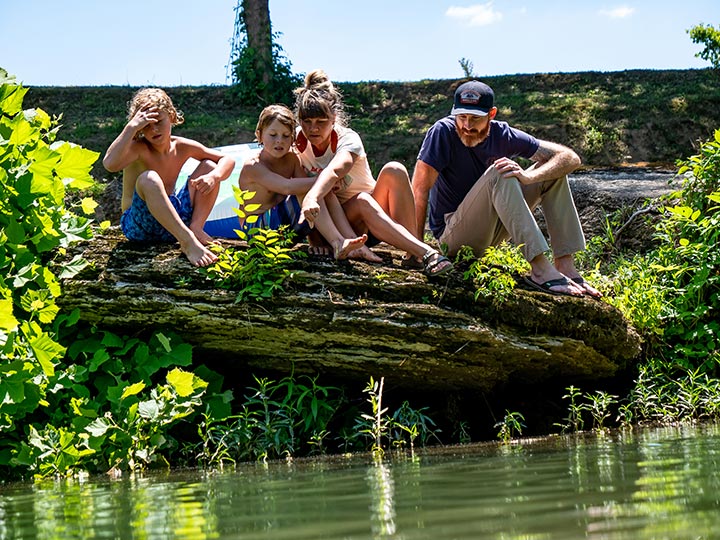 At Piney River Resort, we encourage responsible and eco-conscious glamping. Follow Leave No Trace principles during your stay, respecting nature's beauty and preserving the environment for future guests to enjoy.
Experience Glamping Bliss at Piney River Resort!
Your dream glamping adventure awaits at Piney River Resort. Book your stay now and immerse yourself in the enchanting world of glamorous camping. With our thoughtfully prepared accommodations and stunning natural surroundings, you'll create unforgettable memories amidst the perfect harmony of luxury and nature.
Prepare to be captivated by Piney River Resort's glamping experience. Your extraordinary getaway begins here, so secure your reservation and embark on the ultimate glamping adventure at Piney River Resort!