Does the thought of sleeping in a tent ruin the magic of what a weekend in nature could be?
If you long for the fresh air and beauty of being away from the city but don't want to spend all day in the car to sleep on the rocky ground, here are four options for Tennessee glamping that are just 45 minutes from Nashville.
You can easily make a quick trip and enjoy the fun of smores around a campfire under a sky of stars you'd never see, even in a quiet suburban neighborhood. But, being away from it all doesn't mean you have to sacrifice comfort OR cleanliness.
4 charming Tiny House designs to enjoy glamping along the Piney River
1. "The Farmhouse" Tiny Home
"The Farmhouse" is the first Tiny Home rental we love that screams "Country Chic" in the best way possible. The luxury and charm are evident in the decor, deceivingly large common areas, and multiple beds. The tall ceilings and ample loft space are a bonus for those with a family getaway in mind. The Master Bedroom with a queen bed boasts luxury and makes you feel like royalty in your tiny home experience. The ample common space and full kitchen are an added plus when enjoying the space and your time. Also, suppose the masterful interior design of the tiny house isn't enough for you. In that case, the tiny home RV is outfitted with a charming outdoor space that features a fireplace, lots of outdoor seating, a private gas grill, and stringed lights for a peaceful ambience. This tiny home exudes a simplistic, farmhouse-style charm fit for a restful and exciting vacation.
2. "The Music City" Tiny Home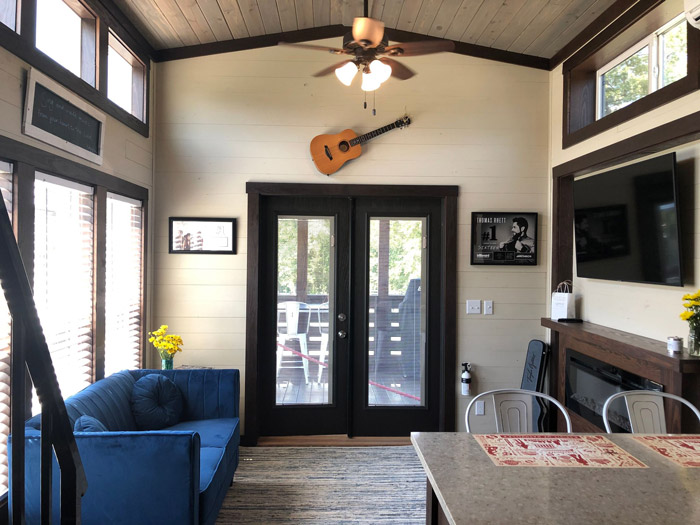 Nashville: Music City, home to country music, hot chicken, infamous Broadway, and…this incredible Tiny Home! It features brushed metal sinks and barn doors that pay homage to the roots of Music City. The Blue velvet couch is a nice touch that brings a homey feel to the six bed getaway. There's a fantastic full shower setup and a covered porch for the experience, and also some Barn-wood style flooring that keeps you comfy for the stay. This tiny home features a ton of great amenities with a theme that makes you feel right at home in Music City.
3. "The Light House" Tiny Home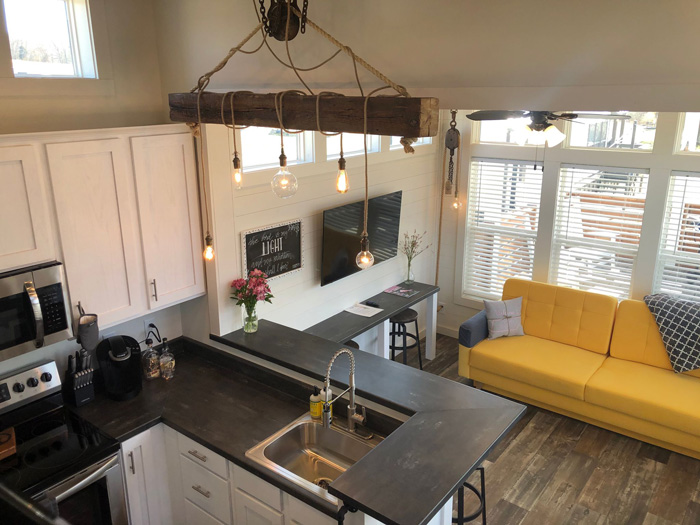 This third Tiny Home model is most definitely a fan favorite out of the 4. The home's interior revolves around the theme of light with gorgeous full windows and featured light fixtures that would make anyone jealous. The ginormous kitchen and bright yellow couch are by far the second-most amazing things about this home, bringing a sense of warmth into the common areas. The home has a Master Queen bed, a bathroom with a full sink, toilet, and, wait for it, WALK-IN SHOWER! There's also a loft upstairs that holds two twin beds and a closet area for your clothes. There's an abundance of windows overlooking the Piney River, making for an inspirational getaway where you can unplug and settle for a weekend away from the world. For the tiny home's exterior, this location also features an ambient outdoor seating area with stringed lights, a private gas grill, and Adirondack chairs, perfect for making special memories next to a romantic tiny home design.
4. "The Magnolia" Tiny Home
The final Tiny Home design is "The Magnolia" which revolves around the theme of southern charm. Many design aspects tip the cowboy hat towards some fun southern motifs. The living room features a velvet sofa, and the tiny home has Barnwood style wood flooring that adds a rustic feel to your stay. Like the "Music City" Tiny home, this design also has brushed metal sinks, quartz countertops, and some awesome barn doors. The bathroom features a walk-in shower (heck yeah!), and the kitchen exudes southern charm with the homey decor. The tiny home has a spacious sleeping situation, with a master bedroom with sliding barn doors and a closet, 2 bunk beds right outside the master, and a loft that holds 2 twin beds.
So whether you're looking for a weekend getaway or need a taste of that tiny home lifestyle, Piney River Resort offers the best glamping near Nashville you can find. With this convenient location and beautiful views of the Piney River, you're set up to make big memories in these tiny homes.