Looking for the cutest Tiny Homes to rent close to Nashville for a fun, peaceful, and unforgettable experience? Affordable luxury getaways just got a whole lot better with these four new designs.
Why Plan Your Stay at a Tiny Home?
Finding a luxury hotel that makes you feel at home and promotes genuine connections between you and your getaway goals are scarce. Staying in a Tiny Home designed just for your style is what the vacation doctor ordered.
Now, we all know that Tiny houses have become all the rage. From shed outfits to vans to RVs, the love for Tiny Homes has taken hold, and it's only getting increasingly more popular. A tiny home rental is the best way to experience a tiny home getaway without the struggle, especially because they're designed with luxury and comfort in mind. Experience a peaceful trip in style while maintaining reasonable proximity to Nashville, TN, and enjoy a landscape you can only find in Tennessee.
Enjoy your next vacation at 4 Tiny Home Rentals we found close to Nashville, TN, hosted by Piney River Resort. The focus on lifestyle shines through impeccable service, gorgeous appliances, and interiors ready for use. Piney River emphasizes your experiences, making more room for your solo getaway or family weekend. In addition, there are options for short-term and long-term stays, meaning you'll have flexible options that are put in place to benefit you. There is no need for confusing conversations with hotel staff or concierge when the only action item is to book your stay. Location, amenities, and potential activities make this place shine, so let's get into it.
Your Renting Options:
"The Magnolia"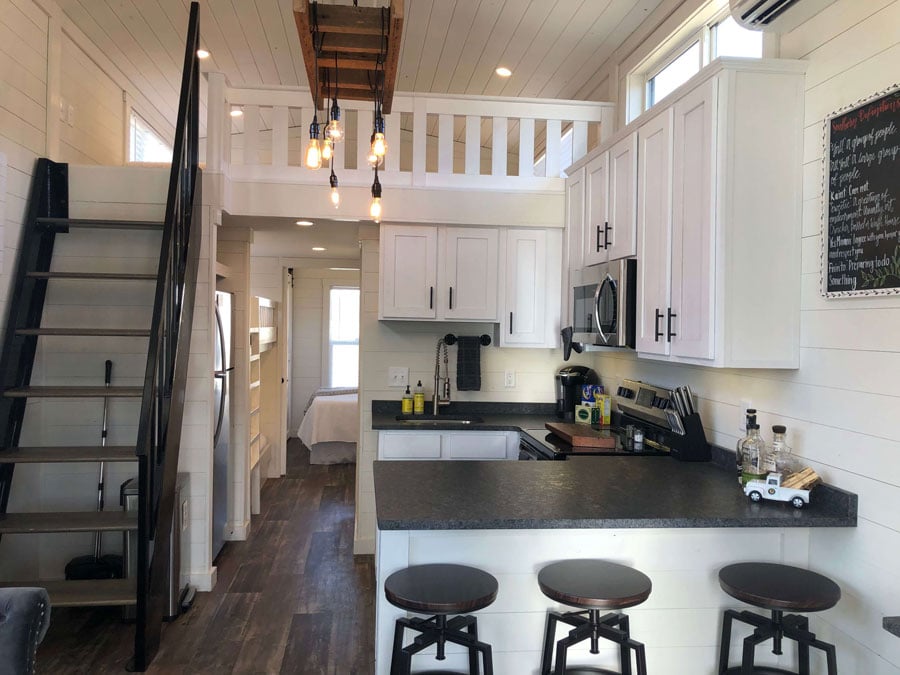 The Magnolia tiny home has a beautiful design featuring a comfy velvet sofa, barn wood-style wood flooring, and a covered porch. A genuinely southern experience is ready to be had with its airy ceilings, covered porch, and Adirondack chairs in your own personal patio space. This tiny home sleeps 6 with a master bedroom, loft with two beds, and a plush comfy sleeper sofa. The luxurious full kitchen is ready for cooking an evening dinner to be had riverside. Finally, a semi-private fire pit is located just outside on the greenery for all the campfires and smores you'll ever need. The booking prices are $155 a night on weekdays, $199 a night on weekends, and $999 for an entire week. To learn more about this tiny home design, click here.
"The Farmhouse"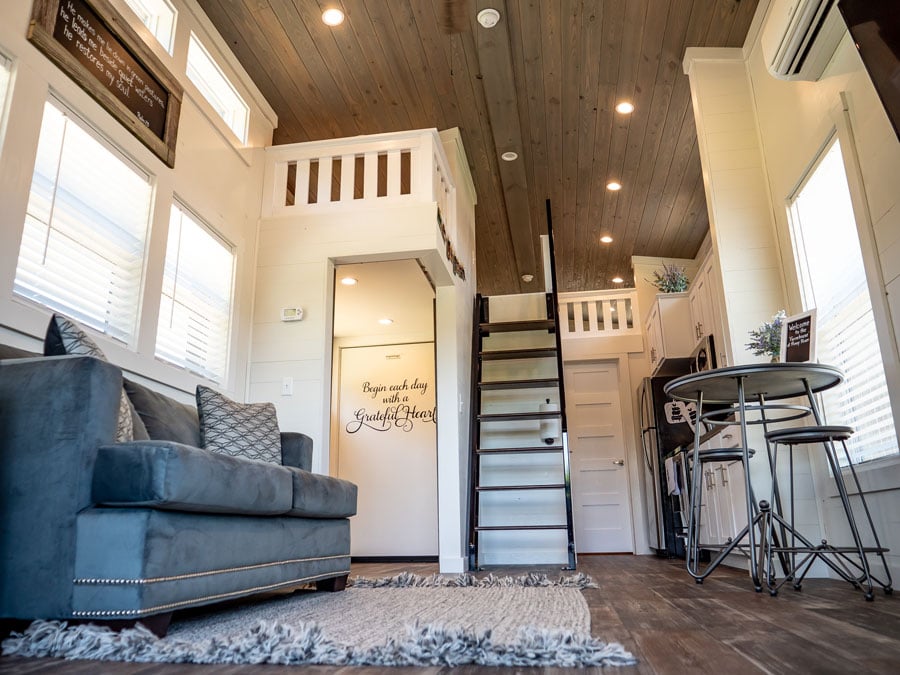 The Farmhouse tiny home design is next in the lineup. It's uniquely designed with "country chic" in mind and all the tiny space you'll need for a proper getaway. The characteristic that makes this design "The Farmhouse" is the flex room that comes with a murphy bed. Its multi-purpose functionality allows guests to personalize their experience by using the space in whatever way they need. Amenities for this tiny home are similar to the Magnolia, with a full bath, a full kitchen, and the ability to sleep six people. The booking prices are $155 a night on weekdays, $199 a night on weekends, and $999 for an entire week. For more information on this tiny home rental, click here.
"The Light House"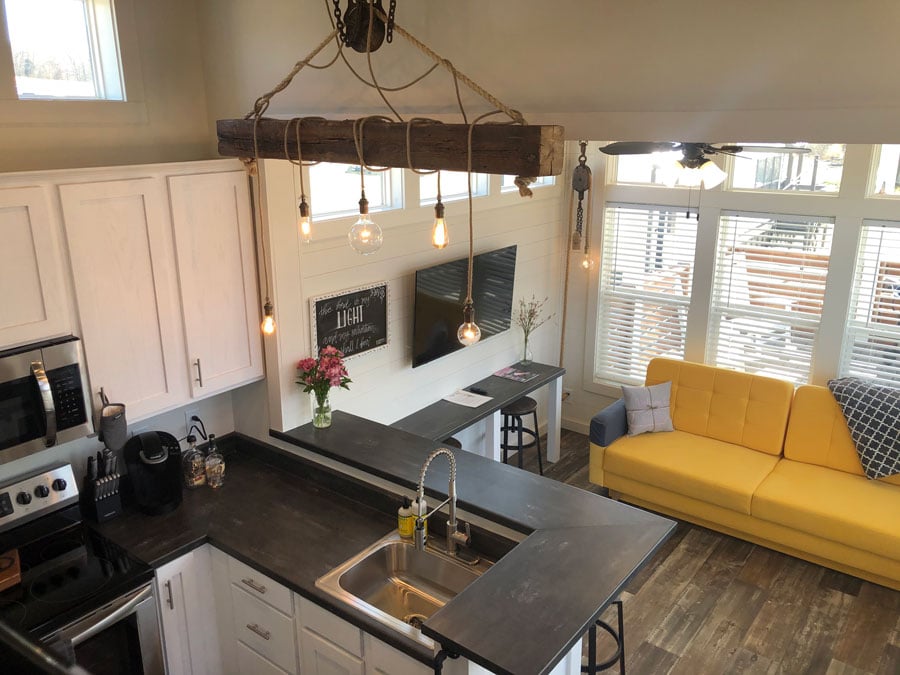 The Lighthouse is another tiny home perfect for your weekend getaway. The amenities are the same as the Magnolia house, but that doesn't mean they aren't amazing. The Lighthouse features exuberant lights with loads of natural illumination to pair alongside. The abundance of windows shows the Piney River's beauty with views galore. In addition to the views, the walk-in shower allows for pure luxury, helping you with your self-care routine during your time away from home. The prices include $155 a night on weekdays, $199 a night on weekends, and $999 for an entire week. For more information on this tiny home rental, click here.
"Music City"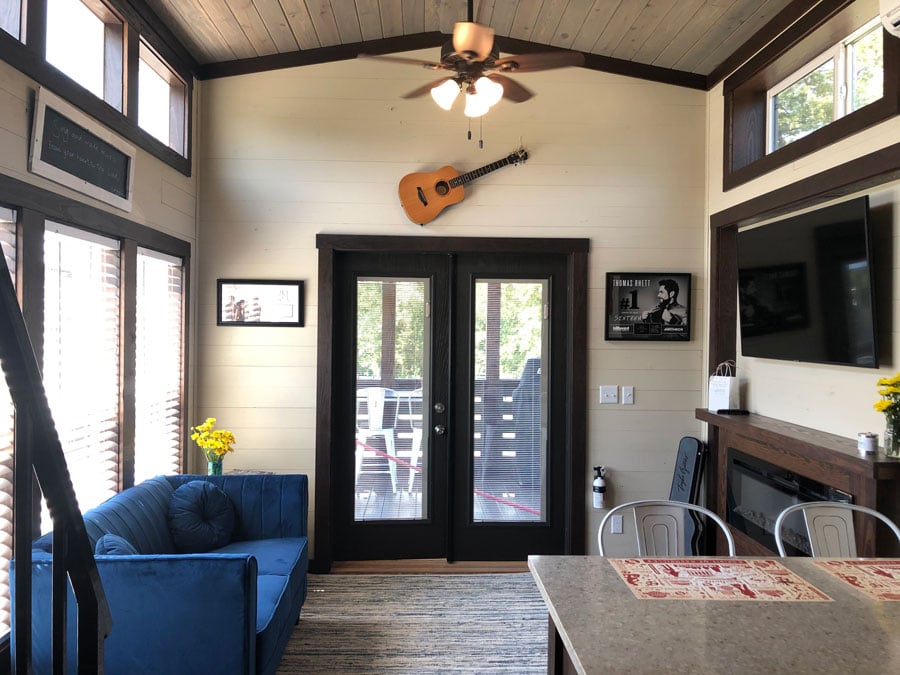 This wonderful getaway stay near Nashville wouldn't be possible without a themed "Music City" tiny home rental. The most exciting parts of this tiny home include the rustic accents like the brushed metal sinks and barn doors and the blue velvet sofa. In addition to these design aspects, there's also the covered porch, the Adirondack chairs, a fire pit, and an amazingly full kitchen. It makes your stay at "Music City" feel more like home. Prices for this tiny home rental go from $155 a night on weekdays to $199 a night on weekends and $999 for an entire week. To take a closer look at this tiny home and everything it has to offer, click here.
Why choose Piney River?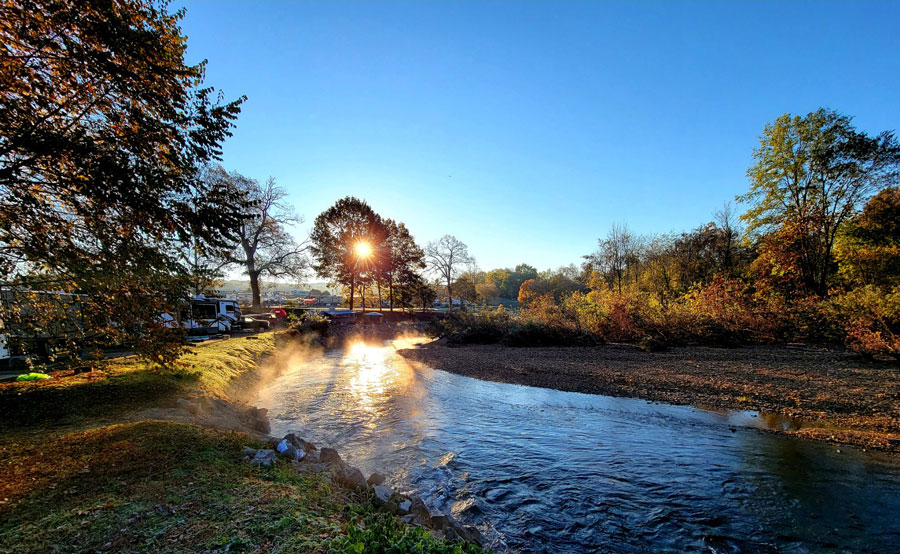 Now that you've decided on a personal tiny home rental vacation, what makes Piney River the best place to be? Other than experiencing the luxury and unique features of these tiny homes, the Piney River Resort location makes the home rentals so attractive. Rather than dealing with the stresses of being in the city, guests can enjoy a tranquil riverside getaway near Nashville, TN, and other historical locations. This resort can be found on the banks of the Piney River in Bon Aqua, TN, just a few miles from the Johnny Cash farm and museum.
The resort is also located a few miles from one of the most infamous civil war locations in the south, Historic Downtown Franklin. Site-seeing is possible, from the historical landmarks of Downtown Franklin to the modern Honky Tonk of Broadway in Nashville. All in all, it's easy to get the whole Tennessee experience from the quiet waters of the Piney River.
Finally, if historic landmarks and big city life aren't quite up to your speed, there are many other activities and attractions near the Piney River Resort. The top activities include hiking scenic trails, exploring the river in a kayak, fishing, visiting nearby wineries, and shopping locally at the Pinewood kitchen and mercantile and Linnita's Deli and Market. You could even take the hustle and bustle out of your getaway and live slow while enjoying smores over your campfire and a cup of joe overlooking the river in the morning. These tiny home rentals are the perfect way to enjoy a tiny home living experience while experiencing a genuinely Tennessean trip.