When it comes to RV camping, there are a lot of factors to consider and take into account, especially when traveling to the worldwide gem, Nashville, TN. How close do I want to be to the city? How crowded is it going to be? What is there to do other than listen to country music and go honky tonkin' on the town? What accommodations will work best for my rig and the vibe of my trip? Here's your complete guide to the best RV Camping trip to Nashville, TN.
First, What is there to do in Nashville?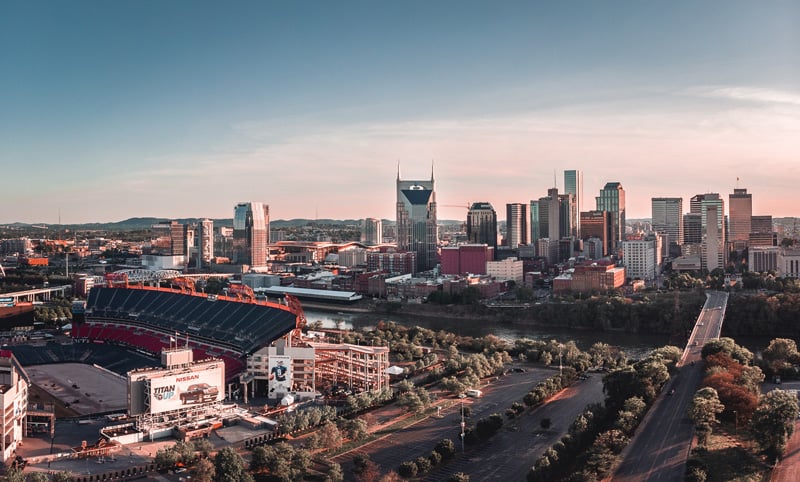 When visiting downtown Nashville, TN, there are plenty of activities and attractions for whatever fits your budget and lifestyle. From local attractions to the Country Music hall of fame to hiking trails to the local food scene, there's a little bit of everything for everyone.
Nashville's most popular musical attractions include the Grand Ole Opry, The Country Music Hall of Fame, and the Ryman auditorium. But, there's so much more than these musical monuments, like local musicians in the bars or Music Row, to consider when planning your ideal RV Camping trip. So, research touring and in-house artists, and see which musical attractions tickle your fancy and suit the vibe of your vacay.
When it comes to food, there are going to be good local barbecue joints all over Nashville. But, of course, you can't go one block down Broadway without some southern comfort food calling your name. But, if southern comfort food isn't quite your speed, there's just about everything in the greater Nashville area with some detective work.
Finally, history buffs can also find an abundance of sights to see when on their ideal RV camping trip. Nashville is a famously historic city and is rich in all eras. For example, during the Civil War, there were major battles, the city was largely involved in the Civil Rights movement, and it served as a key trading stop on the Cumberland River for over two hundred years. In addition, there are even tours of the city's most popular reported hauntings if you enjoy the supernatural.
Overall, there's plenty to do inside the city, but what happens when you step outside? Nashville's greater area has beautiful landscapes, waterfalls, caves, and hiking trails. From Percy Warner Park to the Parthenon's Centennial park, gorgeous views are also found outside the city limits.
Now that Nashville is the best fit for your trip and what you wish to make of it, what's the best RV Camping ground to accommodate you and your rig's needs? Here we've broken it down by category: location, amenities, activities, and overall trip vibe.
Best RV Campground Site near Nashville is…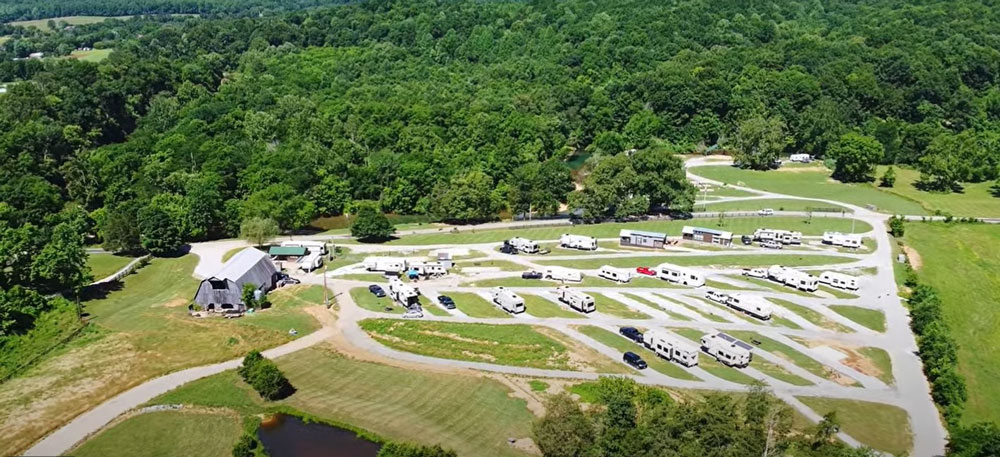 Piney River Resort! Based on three qualifications, we've identified that Piney River is the perfect place to decide what your trip will look like for your rig, sightseeing, and overall enjoyment. We mainly looked at those three qualities: proximity to Nashville, accessibility to nature, and campground amenities and options.
Location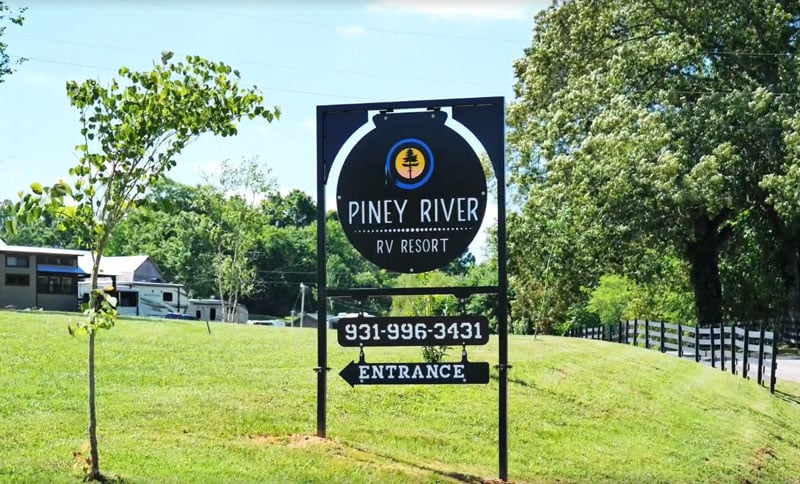 Piney River Resort is the best bet for proximity to Nashville. They are located just a little over an hour from the Nashville city limits, giving you the perfect city-to-nature ratio for your vacation. With access to Nashville, Historic Downtown Franklin, and everything in between, it's easy to fit whichever activities you want into your vacation itinerary.
Accessibility to Nature
When it comes to RV Camping, accessibility to nature is a must. Maybe you're a rugged outdoorsy camper and spend time gazing at the stars and frolicking in the woods. Or perhaps you're a glamper who appreciates mother nature and her glory but likes to experience nature from the comfort of your rig. Regardless of your cup of tea, accessibility to nature plays a prominent role in the RV Camping community.
Piney River's waterfront pavilions and hookup sites are a significant bonus for both sides of the coin and are just one unique aspect of Piney River's natural characteristics. They also have several scenic hiking trails and river kayaking specials, so there's no need to worry about getting your Mother Nature fix-in.
Amenities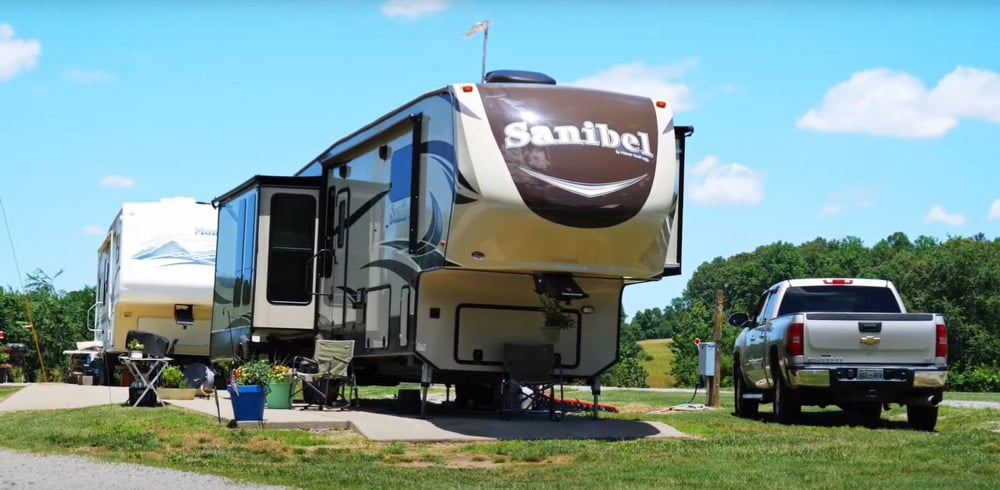 Once the fun aspects of the trip are taken care of, it's finally time to get down to business: rig hookups. Piney River offers full-service hookups, waterfront pavilions, various sized parking sites depending on your rig, and so much more depending on your chosen site. What better way to spend your time in nature and Nashville than from the comfort of your sweet, sweet rig?
Overall Trip Vibe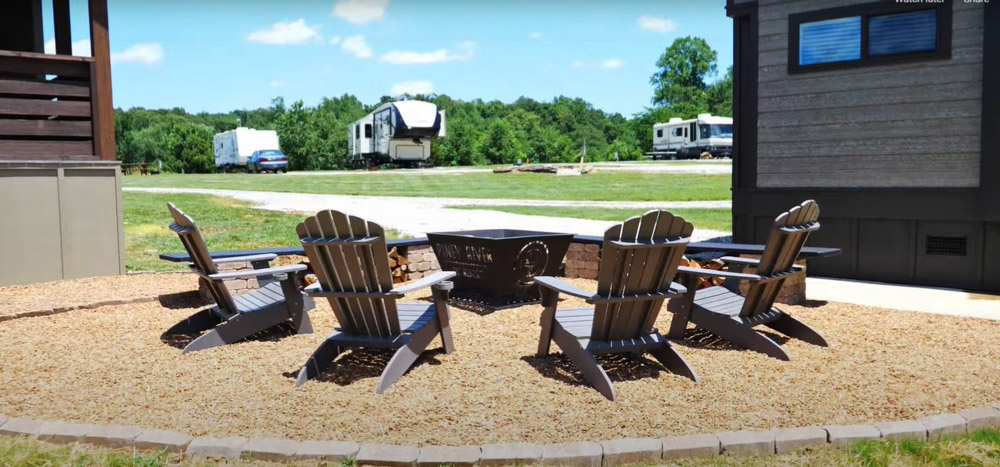 Finally, if RV camping has gotten a bit old for you and you're not feeling like hauling your RV to the Camping site, Piney River Resort offers luxury Tiny Homes for rent. This way, you're not sacrificing the RV Camping lifestyle AND receiving the best of the best when it comes to accommodations. How neat is that?
Conclusion
Sightseeing, tour-taking, and trail hiking all come down to you and where you're heading for a good night's rest. Piney River has the best location, activities, and accommodations to make that RV camping experience the best without the headache that other campground sites can bring.