Tennessee's landscape is rugged, wild, and beautiful. Numerous opportunities to appreciate the abundance of nature, culture, and activities make visiting Tennessee a joy. Regarding RV camping, it's all about accessibility to RV hookups, the fun stuff, the local culture, nature, and comfort. With several national parks and historical landmarks, RV camping in TN makes the experience even more enjoyable when there's a campground that checks every box on your list, so let's get into it.
What Makes the Best RV Park?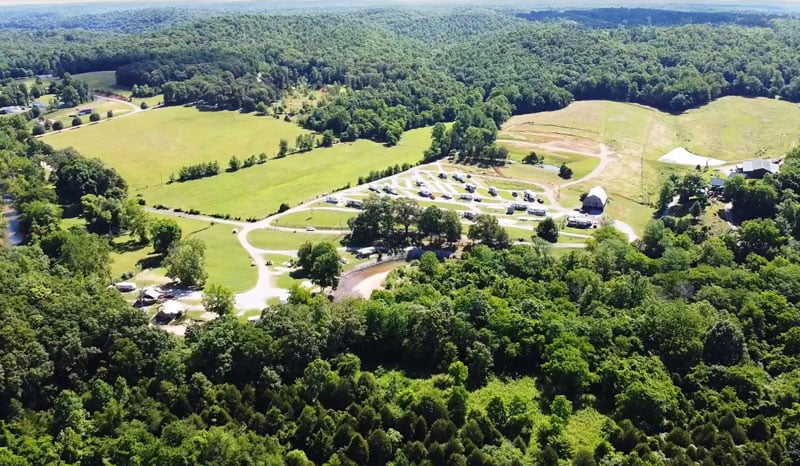 On our "list," there are three different ingredients for the perfect RV trip. The first is the location criterion, which we count as proximity to historical, cultural, or everyday sightseeing monuments around Tennessee (also including cities.) This is especially important for history lovers and tourists who enjoy returning to their comfy RV park after a day on the town. Activities could include historical visits, sightseeing, and tours around the city.
The second qualification is accessibility to nature activities. This includes the local landscape features and what activities you could do on your own—for example, boating and fishing with a nearby lake or hiking and rock climbing with nearby mountains. Make sure to take into consideration the terrain and what your camping preferences are! This is the best time to ask, "Mountains or beaches?"
The third most important part of RV camping is hookup accommodations. Water, electricity, and sewage are all integral parts of RV camping, so we prioritized finding the RV campgrounds with the best accommodations for your rig. All in all, we've found 4 of the best places for RV camping that meet all of our criteria: accessibility to the best location, activities, and hookup accommodations around Tennessee.
Best Location
Anchor Down RV Resort in East Tennessee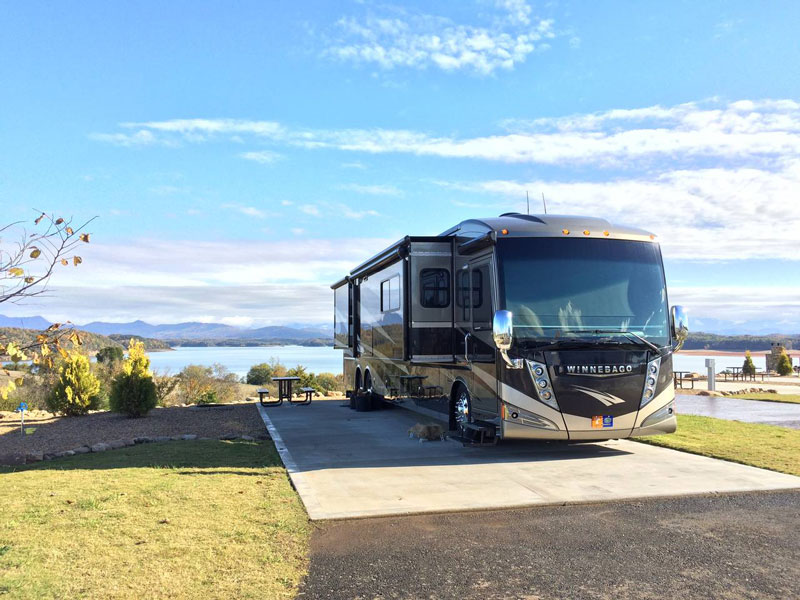 Anchor Down RV Resort is situated right outside the historic town of Dandridge, TN, the second oldest town in Tennessee. Its location is the best for history gurus who enjoy time by the lake and in local small businesses. Amenities include a pool with space for fishing, boating, and sunning on the beach of Douglas Lake. This location is stellar for families as well.
Best Activities
Davy Crockett Campground in Southwest TN

The Davy Crockett campground in Southwest Tennessee is every nature-lovers dream destination without sacrificing water or electricity. They currently have 45 sites with 30amp water and electric hookups. Davy Crockett RV campground features some of the best sites for encountering wildlife. Activities include paddling, bird watching, swimming, hiking, biking, fishing, boating, and much more. There's also an onsite restaurant, which is highly convenient after spending a day with mother nature.
Best HookUp Accommodations
Smoky Bear Campground and RV Park in East Tennessee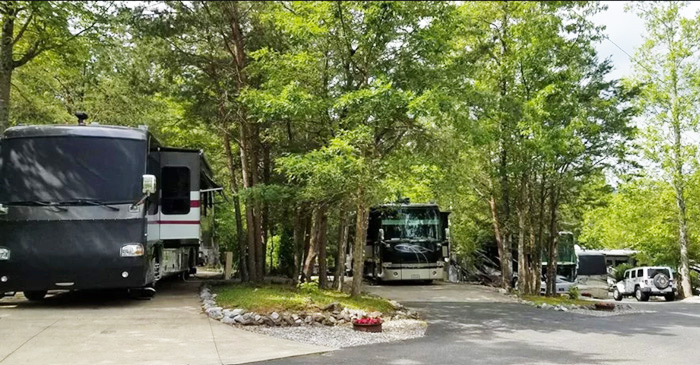 Smoky Bear Campground has one of the best hookup situations in Tennessee. Every site in the RV park is a full hookup, meaning it comes with 30 or 50 amp electricity, sewage, and water line. In addition to the full hookups, the RV park includes amenities including a pool, clubhouse, restrooms with showers, laundry facilities, fire pits, picnic tables, and a seasonal hot tub. So if you're looking for a trip to an RV park that prioritizes your experience at the park itself, this is the place to be.
Best Overall
Piney River Resort RV Park
Piney River Resort RV park features the best bit of each qualification. Its location is in Bon Aqua, just outside of the capitol of Tennessee, Nashville. From Broadway to the Ryman to the historical ghost tours of Historical Franklin, there is an endless list of attractions in every aspect. In addition to the location of the RV park, the array of activities is fantastic. Canoeing, hiking, mountain biking, swimming, and floating are just a few of the nature-centric activities you can partake in at this RV park and resort. Finally, regarding the hookup accommodations, Piney River Resort offers a series of sites with full hookups.
In addition to the RV park, they also host Tiny Homes if you're into keeping your options open with a luxury stay weekend. With six different year-round site packages, it's easy to customize your stay to the amenities you'd love to enjoy. Some include fire pits, patios, waterfront views, grills, picnic tables, and lights to heighten your stay's experience. In the end, it checks off every box on our list when it comes to finding the perfect campground for RV Camping.
Conclusion
Overall, no matter how long your list of qualifications, the best RV campground will ultimately reflect what you value in a vacation. Whether you love historical, cultural, or city landmarks, nature and the activities the local terrain allows, or overall accessibility and comfort for your rig, the decision is all yours to enjoy your stay. The heart of road tripping is in the journey and the experience at your grounds, so make the most of your RV park experience!